About Levelart
Site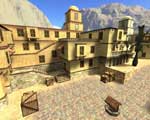 The levelart website was create to showcase my design work, provide level design information for the Urban Terror community, and to act as personal diary. For those visitors who don't know what level design is, it is basically the process of creating the worlds and architecture for computer games.
My future aims for this website is to provide mappers with tutorials and articles that can help them learn about the basic design patterns that all good mappers tend to use. At the moment while there is a lot of information for beginners, and a great deal of help with the technical aspects of mapping, there isn't much documentation on common design elements.
Other crap about me
| | |
| --- | --- |
| Alias: | Tub |
| Name: | Tristian Barrett |
| Residence: | Sydney, Australia |
| Occupation: | Programmer |
I am a software engineer by profession, working mainly with .Net environments. I have always enjoyed creating things, and like level design, programming allows me to construct entire worlds from nothing. I became interested in level design during my time at uni, mostly as a way to get away from the programming side of things. Since then most of my time as a level designer has been spent as a member of SID, working on the Urban Terror mod for Quake3. Level design really has two major parts: the visual design, and the layout/gameplay design. And I think part of the reason I like it so much is that I can explore both very different sides of the one process. I also do a bit of web design around the place. I have done it commercially, but I generally do it just for my own enjoyment. Apart from level design and programming I spend a large part of my time involved in music, whether by listening to new albums, going to gigs, or just messing around on the guitar. I also try and play golf whenever I get the chance.
Books
A Pattern Language: Towns, Buildings, Construction
By Christopher Alexander et al
Through over one thousand pages this book takes you through all the basic architectural principals that a mapper needs. Better yet it tells you how to join them up from the use of simple household ornaments to town planning. This book tackles almost every issue a level designer would run in to including the use of columns, roof design, flow of rooms and hundreds more.